Description

Features

Sizing
Soft, comfortable and colorful, the Kids Merino Wool Hoodie Top is perfect for any adventure. Crafted from high-quality merino wool, it features a lined crossover hood to keep ears cozy and an oversized kangaroo pocket for treasures. Perfect as a kids thermal base layer, this hoodie is super versatile and will become your kids favorite layer for every adventure. Plus, the grow-with-me design ensures it will fit for years come, not a single season. Ready to explore? Order your merino wool hoodie now!
Crossover hood with lining for extra warmth
Oversized kangaroo pocket for collecting treasures
100% merino wool
Midweight merino, 200 gsm 18.5 micron
Ethical wool
super soft, anti-microbial, hypoallergenic, sustainable
"Grow along" sizing = extra long cuffs and raglan sleeves
Made in Haines, Alaska
Our signature base layer sets come in "grow-along" sizes. This means they are designed to fit kids for several years with long cuffs that roll up and raglan sleeves for easy fit through the shoulders.
---
Free Returns + 100% Guarantee
Free shipping on orders over $150
FAQ

How do they "grow"?

Our designs have a little extra room in all the right places.

Extra long cuffs, made from a lighter weight fabric roll up without extra bulk.
Soft wide waistbands fold over and then expand again as kids grow.
Raglan sleeve design means no shoulder seams for more flexibility in fit through the shoulders and chest.

We have tested this sizing for years and found that it really works!

How do I care for them?

Our wools are machine washable and can be dried in the dryer!

Machine Wash Cold
Tumble Dry Low
Use gentle biodegradable laundry soap and stain remover as needed
Shipping Info

Free Shipping over $150

We offer free shipping with USPS on all orders over $150 within the US.

Shipping Options

We ship by USPS First Class or Priority Mail and prices are determined by USPS. UPS and Fed-Ex are available but due to our location, they are not as fast or efficient. If you need these options, reach out and we are happy to assist you. We can also ship internationally and postage will be determined at checkout.

If you live in Haines and would like your order right away, just email Julia at wildhavenwools@gmail.com and we will arrange pickup or delivery and reimburse the shipping.

Order Processing

We ship 1-2 business days after your order is placed, so expect your order within 7-10 business days in North America and 2-3 weeks internationally for standard flat rate and free shipping.
Returns + Repairs

What if I need to return them?

No worries! We offer free returns and full refunds for unworn items. We also offer a 100% satisfaction guarantee. If you don't love them, for any reason, reach out to us by email at wildhavenwools@gmail.com. We will arrange for a replacement or refund.

What if they get a hole or snag?

It happens! Woolies are made to worn and kids are kids. We offer free iron-on patches to repair small tears so they don't turn into bigger holes.

What if they are ready to be thrown out?

Have your woolies reaches the end of their life? It happens. Nothing lasts forever and shouldn't! Instead of throwing your wools into the garbage, send them back to us so we can compost them. We will even give you a discount for your next set!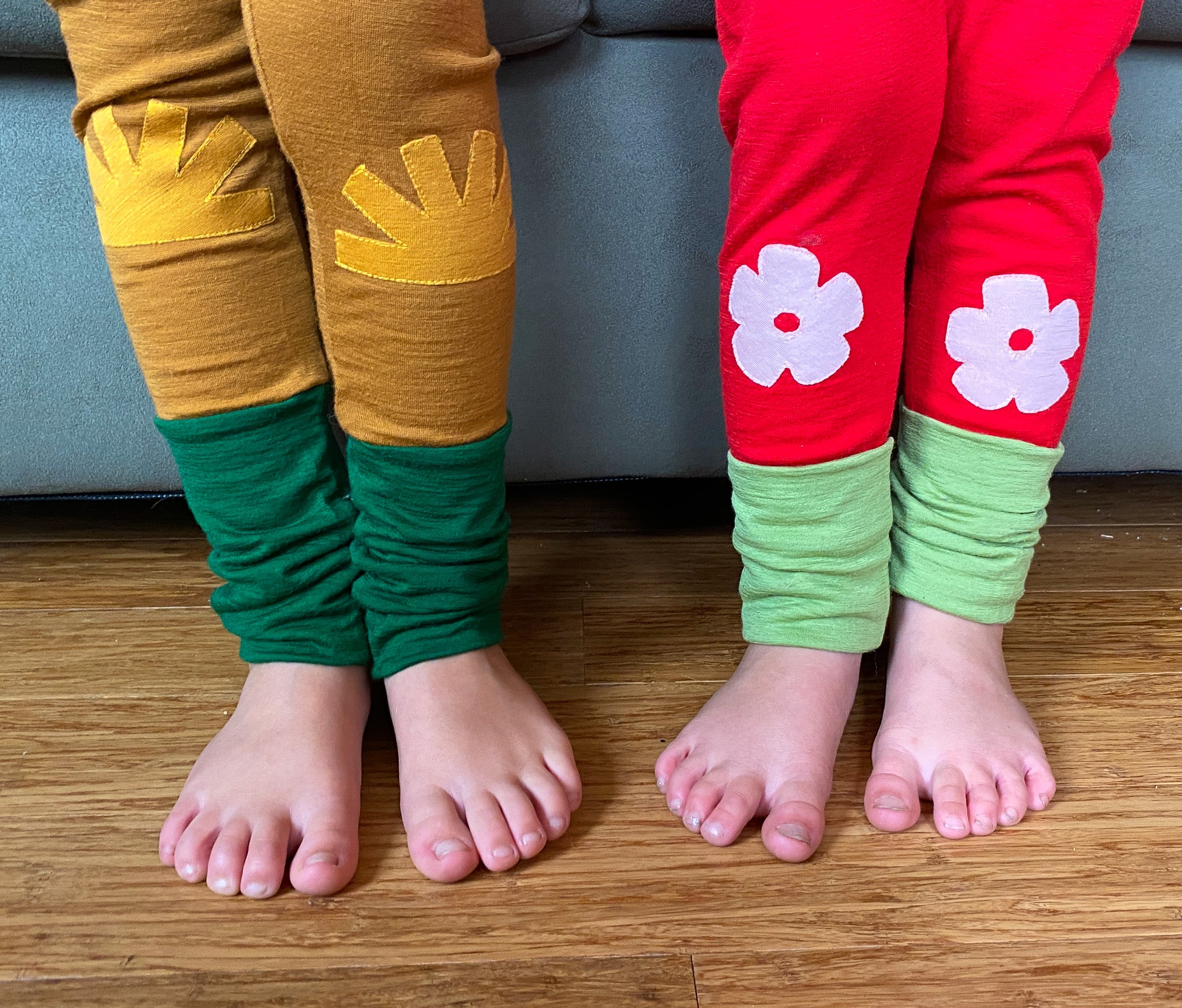 Growth-spurt Proof + Free Repairs.
Made to Last.
Our base layers are designed so you will only need one set to last several years. Grow-with-me design means our clothes fit 3x longer than conventional kids clothing, saving our customers time and money. We also provide no-sew patch kits to help them hold up and will repair seams if the bust.
And, because they are 100% merino wool, not a blend, at the end of their life, our woolies can composted back to the earth.
We don't want you to buy more. We want you to buy one quality set you will use, and wear them everyday.
What is Sustainable Fashion?
Better Materials, Less Waste.
At Wildhaven, we call ourselves a "sustainable kids clothing brand", but what does that mean? To us, that means using natural biodegradable materials like merino wool and sourcing from ethical factories with the highest eco-standards. It also means making practical durable kids clothes that last, not just for one season, but for years.
We strive to make clothes that have a minimal impact on our earth. That is what being a "sustainable" clothing brand means to us.